Som du nok er klar over er Santorini en vulkanø. Det var et gigantisk vulkanudbrud der fandt sted i 1630 f.Kr.der der skabte det store facinerende caldera og delte Santorini i flere stykker (læs mere under Santorinis geografi).
Der er stadig vulkansk aktivitet på Santorini, og senest i 1950 var der et harmløst vulkanudbrud på Santorini. Siden dette udbrud har vulkanen på Santorini været i dvale, og det eneste tegn på at der er flydende magma under Santorini, er de mange varme kilder og damp der kommer ud af sprækker på øen Nea Kameni.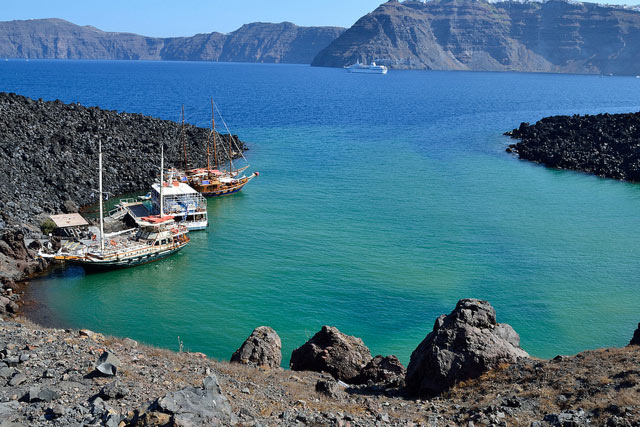 Fra Santorini arrangeres der vulkan-ture både fra den gamle havn i Fira og var Athinios Port, hvor du vil få en masse information omkring vulkanen Santorini. Du vil normalt kunne vælge imellem to turer, en ren vulkantur, og en tur hvor i også besøge naboøen Thirasia / Thirassia, der også er en del af Santorini.
Uanset hvilken tur du vælger vil I starte at sejle ud til vulkanøen Nea Kameni, hvor i går i land og bestiger den 127 meter høje vulkan (husk fornuftigt fodtøj da overfladen på Nea Kameni mest består af klipper og sten). Unde turen er det flere steder muligt at se, hvordan der kommer røg og damp op fra jorden, alt imens guiden vil give jeres en masse informationer omkring de vulkanske aktiviteter, der har været på Santorini igennem de sidste mange tusinde år.
Herefter går turen videre til en varm kilde hvor der vil være rig mulighed for at bade i det dejlige varme vand, inden i sejler tilbage til Fira / Athinios igen, med mindre du har valgt den lange tur. Er dette tilfældet vil i sejle videre til Thirasia hvor der vil være mulighed for at udforske øen på egen hånd i et par timer før i sejler tilbage igen. Ofte vil du have mulighed for at blive sat af i Oia, hvis du ønsker at bruge aftenen der.
Prisen for en sådan tur vil variere fra ca. 150-250,- per mand, alt efter om du vælger den korte eller lange tur.